The Jewish community of Luboml dated back to the 14th century. By the 1930s, Libivne (as it was called in Yiddish) had a vibrant community of at least 4,000 Jews. The interwar years were a period of astonishing cultural ferment and change in this Polish shtetl. While the family and traditional religious institutions continued to play a central role, they were joined and sometimes challenged by modern intellectual attitudes, styles of dress, and other secular influences (particularly Zionism) which increasingly made their way to this corner of eastern Europe.

Luboml was occupied by the Soviets from 1939 until 1941, when the Germans took control and established a ghetto there. Ultimately, the Germans, assisted by Ukrainians and Poles, massacred the Libivner Jews in a series of "actions" which culminated in the final executions on October 1, 1942. Only 51 Luboml Jews (excluding those who had emigrated before the war) are believed to have survived the Holocaust.

The Luboml Exhibition Project has located almost 2,000 photographs and artifacts from more than 100 families and archives around the world, and has taped many video interviews with Libivners. We are pleased to present a small part of our collection online.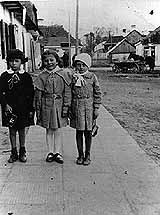 Right to left: Roza Szwarc,
Rivke Milshtein and an unidentified girl. 1937.
Collection of Fruma Golod

"To me, Luboml was and will forever remain -- Libivne!"
Chane Kraut Achtman

"After World War I, new winds began to blow in the small towns of the new Poland and former Russia ... As everywhere else, so it was in Libivne."
Yecheskel Kahn